Fashion dictionary
(1) Oversize is a term that characterizes loose-fitting clothing, which, as a rule, looks several sizes larger.
Oversize things help create a stylish look and hide many of the figure problems. For several seasons, such things have been at the peak of popularity.
The oversize style goes well with different elements of the wardrobe of all kinds of styles, so it gives wide scope for imagination and experimentation with images.
(2) Neoprene is a flexible, plastic and fairly durable synthetic material. When sewing clothes, neoprene is used, pasted over with a fabric: polyester, cotton or other types, mostly elastic.
Neoprene clothing has many advantages:
environmentally friendly and skin friendly
durable
resistant to mechanical and chemical damage
waterproof
resistant to temperature extremes
resistant to the formation of fungi and bacteria
(3) Jacquard - fabric with a large pattern. The peculiar relief pattern, which is obtained as a result of complex weaving on dense fabric, resembles a tapestry.
Jacquard fabrics are strong and durable, weakly stretched and abraded, retain color well, are slightly susceptible to temperature changes.
Jacquard is one of the most expensive fabrics, since its production is labor intensive.
(4) Eco-leather / eco-suede - a quality substitute for genuine leather / suede.
The prefix "eco" means the property of environmental friendliness when used. High stability and ease of maintenance ensures a long product life and unpretentiousness in use.
Features of Eco-leather / eco-suede:
The surface texture accurately imitates genuine leather / suede
Resistance to abrasion and tearing (comparable to the best samples of materials of both artificial and natural origin)
High tactile properties - softness to the touch, elasticity
Environmentally friendly composition (toxic substances, cotton base, genuine leather / suede, polyurethane coating are not included in the composition - the materials do not cause allergies);
Frost resistant
Easy-to-use (hand and machine wash)
(5) Fleece is a synthetic knitted fabric made of polyester for the manufacture of warm clothes.
The main properties of fleece:
easy
breathes well
elastic
easy-to-use (hand and machine wash)
dries quickly
even in the wet state keeps heat-insulating properties
hypoallergenic
(6) Apache-collar — (apache, translated from French - bully) is a turn-down collar that has large lapels. Such a collar is a symbol of free style, negligence, as it implies the complete absence of a tie. It looks equally good on both men and women, as well as blends and harmonizes with clothes of different styles.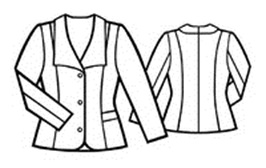 (7) Shawl collar is a turn-down lying round-shaped collar that descends to the chest and is integral with the sides.
A shawl collar cardigan is good for its stylistic versatility. You can wear it with a T-shirt or shirt, or with a lace blouse, jeans or trousers, sneakers or heeled shoes.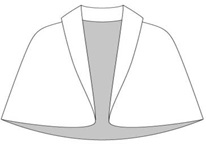 (8) A Basque is a wide frill sewn along the waist line to a dress, blouse, jacket, skirt, coat, etc.
Historical reference:
Basque was a traditional element of Basque costumes. Initially, this element was used in men's clothing and only then turned into women's clothing. The Basque owes its present popularity to a fashion designer of Basque origin — Cristobal Balenciaga. Balenciaga has made Basques the main element of many of his collections. Basque can be seen in many collections of Chanel, Givenchy, Jean Paul Gaultier, Nina Ricci, Preen, Proenza Schouler, Marc Jacobs, etc.

(9) Raglan sleeve is a type of cut of a sleeve of clothes, in which the sleeve is cut out along with the shoulder part of the front and back of the product.
Historical reference:
This type of sleeve is named for the British field marshal Baron Raglan, who lost his right hand at the Battle of Waterloo (1815) and wore clothes with this type of sleeve to slightly hide this shortcoming.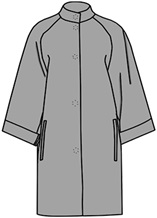 (10) Flap pockets
Flaps are small inverted parts of clothing. They perform both a decorative function (draw up the entrance to the pocket) and practical (close, protect the entrance).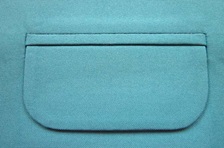 (11) Cape coat - outerwear of a loose cut without sleeves, usually has a trapeze silhouette. Due to the variety of models, the cape looks good in combination with different styles of clothing, both classic and casual, sports. Complementing the cape with various accessories: long gloves, cozy wide stoles and voluminous scarves, scarves from thin silk, you can easily create not only a casual, but also an evening look.
In the new season, both capes from traditional coat fabrics - drap, cashmere, wool, as well as knitwear, leather and fur are in fashion. The color spectrum is beige and gray, coffee with milk and emerald.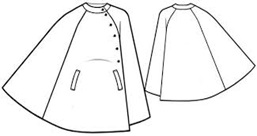 (12) Futer - One of the most delicate and pleasant textiles for the body.
It owes its qualities to the special interweaving of the threads of the fabric when production. From the wrong side, with the help of loop broaches, the futer threads are attached to the fabric base, as a result of which a peculiar wrong side texture is formed. Thanks to modern technology, this texture is often made in the form of a pile, and the front side looks smooth.
The footer absorbs moisture well and, at the same time, remains hypoallergenic. Thanks to the adding of synthetic threads into a cotton base, the footer gains external shine and elasticity, becomes more resistant to deformation, strong and durable.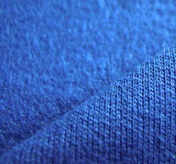 (13) Welt pocket
Welt is a decorative element in clothes that decorates the entrance to a pocket. Most often used in classic men's and women's costumes.

(14) Polo-clasp is a decorative clasp on clothes.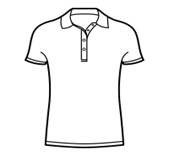 (15) Georgette is a light, translucent, but very durable fabric, thanks to the special weaving of threads in a linen way. Georgette is made from thin twisted threads using a method of linen weave.
The texture of this material is quite rigid and elastic, but at the same time elastic, so georgette holds its shape very well, drapes beautifully and effectively fits the figure.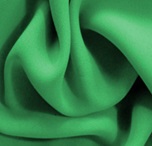 (16) Crepe is a group of fabrics, mainly silk, made from threads with a very large crepe twist, and in some cases special crepe weaves. In the manufacturing process of this textile, multiple twisting of the threads to the left and right in a certain sequence is usually applied, which gives the fabrics special strength and density.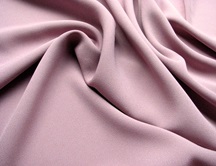 (17) Plush is a fabric, the front side of which is covered with a soft pile, longer than that of velvet.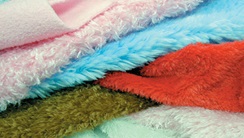 (18) Chantilly lace is a black silk woven lace, the production of which was founded in the XVIII century by Catherine de Rogan. Lace is named after the French city of Chantilly.
Chantilly is one of the most common types of lace. It not only contributed to the formation and success of French woven lace, but also had a significant impact on the stylistic features of modern lace products designed for the fashion industry.

19) Pea coat is a coat of dense woolen fabric with a straight double-breasted cut and a turn-down collar, which came from the equipment of sailors in the United Kingdom and the US Navy.
Historical reference:
A bushlat, or pea coat, became part of the uniform of the Royal Navy of Great Britain in the mid-19th century. For the first time, British sailors in 1857 wore jackets. It was a double-breasted heavy cropped coat made of wool. Mandatory clothing details were a turn-down wide collar and two pairs of welt pockets. The first British sea pea jackets were of different lengths, sometimes a little higher, and sometimes just below the knees, by the beginning of the First World War, almost all the jackets had become hip-length.
Pea coat was part of the equipment of sailors in many countries of the world. The sailors of France, Spain, Germany, the Netherlands, and Finland wore coats, with the peculiarities inherent in each nation. But the canonical details remained unchanged: two sides, a wide collar, two rows of buttons with anchors, the material is thick wool.
In the Russian Empire, a short double-breasted short coat "made of green cloth on a warm urs lining", fastened with six buttons, was introduced for the first time by the Russian navigator, Arctic explorer Fedor Petrovich Litke, who gave it a special name. In the order of 1848, the first name of this garment was fixed: brushlat (from the German words Brust - chest, and latte - armor, chest protection), however, until 1917 in official documents it was everywhere called "a short coat with a urs lining." At the same time, the spoken language in the navy universally used the name "brushlat". At the end of the 19th century, brushlat became known as bushlat, and finally, only in 1917-1918, a new pronunciation form was adopted - bushlat.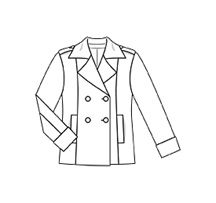 (20) Casual style is a style which main features are practicality, simplicity and ease of silhouettes, layering, and most importantly - convenience. The style appeared in Europe in the 20th century. The main thing when creating a look in casual style is to exclude formal, elegant, overly traditional elements of clothing and try to combine classic elements with informal ones, while creating a feeling of elegant ease.
(21) Flock is a non-woven textile, which is a base and a pile glued to it on one side. The base is most often polyester, since such a base is considered very strong and has good performance characteristics. Pile is made of artificial fibers: polyamide, polyester, viscose.
Using different textile threads, you can get suede, velvet and felt flock.
Historical reference:
In ancient China, a craft resembling flocking was developed. As glue, the Chinese used resin. Resin was applied to decorated objects. Colored fibers were applied over the resin. Fibers could form various patterns.
The desire to decorate their clothes and increase the value of everyday items has become the main cause of flocking.
Flocking in its present form appeared in the 1950s in America.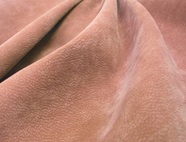 (22) Sleeves with gathers on sleeve cap is a set-in gathered sleeve. Sleeve cap is a type of sleeve modelling.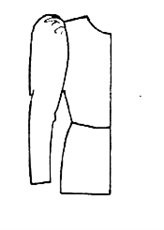 (23) Plate clasp is one of the most common types of decorative fasteners.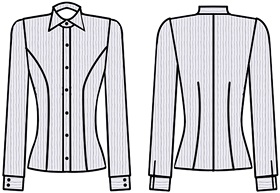 (24) Piping is a decorative strips of textile. The edges of the product can be piped, they can be stitched onto the parts along with lace and frills.
(25) Richelieu embroidery is an elegant openwork embroidery, all the elements of the pattern of which are sewn with satin stitch manually or on a sewing machine, and the gaps between them are cut to create lace.
Historical reference:
For the first time, this type of needlework appeared in Italy during the Renaissance, and then migrated to France, where it acquired a huge number of admirers. One of them was the famous Cardinal Richelieu, in whose honor this embroidery got its name.
Since the Renaissance, the Richelieu embroidery has experienced many high fashion rises so as practically to disappear again over time. Today embroidery in the Richelieu technique is undergoing another renaissance, decorating the dresses of famous designers.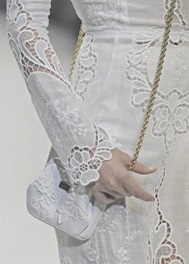 (26) Skinny trousers - skinny ankle-length trousers that got their name from English "Skin". Trousers fit your legs tight, emphasizing all the lines of the silhouette. Made from stretch elastic fabric, often from denim.
What to combine with:
Trousers of this style look good with loose tops and blouses, sweatshirts, long knitted cardigans and loose vests. Trousers go well with both sport shoes and classic pumps.
Historical reference:
The history of skinny trousers begins in the distant seventeenth century, when leggings - skinny trousers made of elk leather were an obligatory part of the ceremonial dress of kings and important people of society. They were so narrow that it was possible to wear them only when wet. After the trousers have dried, they hugged the male legs, flaunting spectacular muscles. However, after removal, the wounds and scuffs remained on the legs, due to which important persons could not leave their rooms for several days after the parade. Towards the nineteenth century, a more sparing version of tight-fitting trousers appeared - leggings, which delivered men more comfort when wearing, and narrow leggings forever left the category of men's clothing.
(27) Slim-fit pants are one of the most fashionable models of trousers of this season, straight-fitting pants with a fashionable length of 7/8 or long.
Slim-fit pants beautifully emphasize the advantages of the figure, make the legs more slender.
What to combine with:
Trousers of this style look good both with voluminous lace blouses and sweaters, and with loose or fitted shirts.
Historical reference:
Slim-fit pants appeared, thanks to the fashion designer Emilio Pucci, and replaced the wide crease trousers in the fifties of the last century. One of the factors that influenced their appearance was the post-war crisis, when the deficit was experienced in everything, including the availability of fabrics for sewing clothes. And the Slim-fit pants, of course, take a little less fabric than the wide ones. Initially, the slim-fit pants were presented in a single style - they were straight, with crease, with a belt strictly at the waist and inside pockets on the sides.
(28) Culottes trousers are flared shortened trousers, usually to the middle of the lower leg, slightly higher or slightly lower, depending on the model. Culottes trousers remind a midi-length skirt and this is their fundamental difference from classic wide trousers.
What to combine with:
Culottes trousers look quite voluminous, so they go well with fitted classic shirts and jackets, thin not voluminous jumpers. From outerwear you can choose an elongated cardigan, a short fitted jacket or a coat of a free cut.
Shortened trousers quite strongly emphasize shoes. Culottes will look good with classic pumps, wedge-heeled shoes, as well as flat shoes.
Historical reference:
The history of the appearance of culottes is rooted in France. Previously, such an element of clothing was worn exclusively by men of aristocratic origin. Much later, in the 30s of the XX century, such a thing came into common use. Skirt-trousers began to be used by women for sports and cycling. It was very convenient, since such clothes did not hinder movements, and at the same time the image remained feminine. In the 60s of the same century, culottes were on the second wave of popularity. But then they were not already used for sports - skirt-trousers became a fashionable attribute of a women's style.
(29) Banana trousers are O-silhouette trousers that sit tight on the waist and fit the upper part of the hips, but at the same time with wide drop-down trousers, narrowed at the ankles.
What to combine with:
Banana trousers are perfectly combined with almost any clothing and shoes, which is a definite plus. However, to balance a loose wide bottom, you can wear a narrow blouse or t-shirt, which is better to tuck into trousers. Shoes for banana trousers should be bright and spectacular.
Historical reference:
Banana trousers first appeared in the United States in the middle of the 20th century. At that time, they were popular among musicians, fans of jazz, who wanted to emphasize their free style and their individuality. The musicians combined banana trousers with bright knee-length jackets with a wide shoulder line, thereby creating original images. Later, in the 80s, this item of clothing passed into a women's style.
(30) Carrot-trousers are feminine and elegant trousers, suggesting convenience and lightness: they are high at the waist, wide at the hips and taper to the bottom, often shortened.
What to combine with:
You can wear such a style of trousers with loose blouses up to the waist of the trousers and shoes with medium heels.
(31) Jeggings are a mixture of leggings and jeans, usually made from stretch fabric that simulates a denim pattern.
What to combine with:
Jeggings, like jeans, go well with tunics, dresses, cardigans, jackets, long sweaters and shirts.
(32) Trousers in the style of Marlene Dietrich are straight-cut trousers with a belt tightly sitting on the waist and wide trouser-legs. Trousers of this style perfectly hide the fullness of the hips, lengthen the legs, can be with an arrow along the entire length or from the knee or a soft crease.
What to combine with:
Pants combine beautifully with a classic jacket, tuxedo, white shirt, draped silk blouse, fine knitwear of good quality.
Historical reference:
Trousers in the style of Marlene Dietrich are a real iconic thing in the wardrobe of every fashionista. Marlene Dietrich herself introduced the trousers into fashion, for which the mayor of Paris demanded that she leave the city because of her outrageous appearance.
In the 30s, when emancipation was just beginning, and the appearance of a woman in trousers in public caused considerable indignation, Marlene Dietrich managed to create the image of a "vamp" - the image of a woman who was successful and confident in her abilities, but at the same time completely inaccessible and mysterious.
(33) Belgian insulation Isosoft is a new generation of insulation of high quality. Its heat-insulating structure consists of many fine fibers, due to which the products have high heat-shielding properties. The unique surface of the material allows you to combine Isosoft insulation with different fabrics, reducing the wear time of the fabric. With lightness, softness and a small amount of material in clothes with insulation Isosoft you always comfortable comfortable and very warm.
(34) Snood is a circular scarf with no beginning or end, can be knitted from wool, boucle, cashmere or sewn from cotton, silk and even fur.
What to combine with:
Snoods look good with any outerwear: draped coat, cloak, jacket, down-padded coat, fur coat. They will be appropriate in the wardrobe of both classic and sports style.
(35) A trench coat or trench is a model of a double-breasted raincoat with the same attributes: shoulder straps, turn-down collar, cuffs, yoke, belt and slit at the back. This cloak is consistent with the military style. Since it was originally created for the military. The trench entered the women's wardrobe thanks to Coco Chanel.
(36) Модал – современный материал нового поколения. Его называют модернизированной вискозой: она полностью состоит из целлюлозы, добытой из эвкалиптового дерева, бука или сосны. То есть это практически натуральный продукт.
Достоинства:
Гигроскопичность. Материал способен впитывать жидкость в полтора раза больше, чем хлопок, при этом быстро выводит ее наружу.
Легкость. Ткань практически невесомая за счет невероятной легкости волокна.
Воздухопроницаемость.
Экологичность. Ткань экологична, в ее составе нет токсичных компонентов.
Низкая сминаемость. Материал практически не мнется. Надолго сохраняет стойкость цветов и даже после многочисленных стирок изделия не выцветают и не теряют яркости красок.
Эстетичность. Ткань напоминает по виду шелк, блеск больше матовый, благородный.
(37) Тенсел – материал натурального происхождения, который производят из древесины австралийского эвкалипта и подвергают нанообработке. Производство тенсела – искусственное и является практически безотходным, не наносит вреда окружающей среде.
Главным преимуществом является экологичность: волокно целлюлозы, которое является основой тенсела, экологически чистое, свободное от пестицидов, полностью биоразлагаемое. Также эвкалипт, из которого получают волокна, ценится своими антибактериальными свойствами.
(38) Брюки-карго – брюки с достаточно широкими прямыми штанинами. Помимо привычных передних и задних карманов, отличительной чертой этих брюк служат необычные накладные карманы по бокам. Часто их делают внушительных размеров с клапанами, хлястиками, ремешками или пряжками.
С чем носить:
Брюки-карго с блузой или пиджаком. Более нежный образ можно создать при помощи трикотажной блузки простого кроя или водолазки. Сегодня брюки-карго можно носить и на деловые встречи и даже на работу в офис.
Историческая справка:
Брюки карго придумали в 1938 году для британских военных. В большой карман спереди бедра предполагалось класть карту. Лишние карманы оказались настолько удобными, что уже через несколько лет брюки карго появились на вооружении у армии США, карманов стало больше, и они стали вместительнее. После войны удобство дополнительных карманов оценили те, кому по долгу службы нужно носить с собой много мелких предметов.
(39) Ружейные клапаны – можно сказать, обязательная и неотъемлемая часть тренча. Эта деталь представляет собой дополнительную ткань, находящуюся на правой или левой части груди. Этот декоративный элемент, расположенный асимметрично на модели, защищал плечо солдата во время стрельбы: дополнительный слой ткани смягчал отдачу от винтовки.